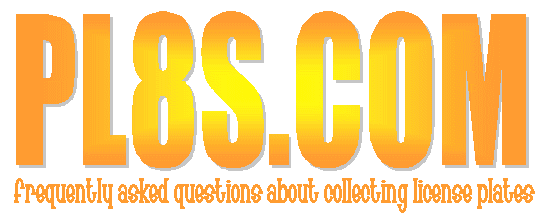 Thanks for stopping by the PL8S .com FAQ page - I get a ton of emailed questions here at the PL8S office, and hopefully there's some answers here that will help you out. If you still have a question a something, don't be shy - just email me at any time.
On to the questions....

---
Why would anyone collect license plates?
Where do I start?
Where do I get the plates?
What do I collect?
So what's your favorite license plate?
What was the first license plate?
What is the rarest license plate?
I'm looking for a plate for my antique car - do you have one?
I have a license plate that I would like to have restored - do you know someone who can do the job?
Do you have a large collection?
I have some license plates to sell - are you interested?
I have a plate, and have NO IDEA what it is - can you identify it?
I got a copy of your list, but I can't figure out what the abbreviations mean? What's up with this?
I'm not familiar with the grades used on license plates - can you elaborate?


Why would anyone collect bottle caps, string, cards, matchcovers, dirt, or a million other variations of collectibles? For fun! Not only that, but how many hobbies can boast pieces with a myriad of colors, designs, origins, types, sizes and materials comparable to license plates? And license plates are still one of the more affordable hobbies going!
Although I know of a number of collectors who have amassed some pretty impressive collections on their own, I wouldn't shy away from joining any one of a large number of license plate hobby clubs, and to subscribe to some of the many plate publications. The biggie that most collectors find themselves joining is the ALPCA, or Automobile License Plate Collectors Association. This organization has been around since 1953, and offers a bi-monthly newsletter to its club members. I believe there are currently about 2700 active members in the ALPCA located around the world. There are also a large number of regional clubs around the world, and although they are smaller, some put out some nice information newsletter. In the way of classified advertising, the ALPCA Newsletter has a classified section in the back of each issue, and you could also try other magazines such as he Number Plate Collector's Club (NPCC, based in Australia), Nevada Independent License Plate Society (NILPS), Europlate (based in Europe).
Where do I get the plates?
Well, when I started out, I used to peruse the junkyards looking for plates, but the days of walking away with free plates from junkyards is long past. Most yard owners lean toward charging for everything they possibly can, and they really haven't got a clue as to the value of junked plates. You might find 20 plates in a day of yard searching, only to find some yard boss trying to charge you $5 a pop for $1 or $2 tags.
Another great way to get some plates is to write to Department of Motor Vehicles offices around the US, Canada and the Territories. There are still some places that will send you some sample plates for nothing, although most will charge a nominal fee - usually a few bucks, up to around $10, and rarely, a little more. I've gotten some good stuff from the DMVs, and I've never yet had a really accurate address for any one of them. For your first letter writing attempt, try a one-per-state batch of letters, explaining that you're a plate collector, and you're looking for some plates to start your collection. A generic address like "Department of Motor Vehicles, Sample License Plates, Capital City, State, Zip" has proven to me to be adequate to garner an almost 100% response rate!
Probably the best way to get plates, is to run some ads describing what you're looking for. A good want ad can generate some nice additions to anyone's collection in no time. Just be sure to start small, and work your way up - attempting to compile an overly difficult collection can lead to frustration, and next thing you know, you've given up. Which leads to the next section....
Most novice plate nuts that I've known have started out with the old "one per state". It's an interesting set, with a lot of color and variety, and with a little successful begging and some leg work, you can whip up a decent set for around $150, and sometimes even less! Talk to friends and relatives in others states, as they can usually help, and like I said - the letters to the DMVs don't hurt either! The first 40 or so plates will come without too much trouble, then you can work on the last group to finish off the set. These usually are comprised of Alaska, Hawaii, D.C., Wyoming, Montana, Vermont (?), Nevada, and some of the other less populous states. When this is finished, why not finish off Canada? Just ten provinces and two territories, and your have a nice US / Canada set on the wall!
When you've built up a little steam, and you're ready to get into more serious collecting, try some of these sets....
BIRTHYEAR SET - Similar to the "one per state" set, but go for each state - only from the year you were born! Depending on whether you're a spring chicken or a crusty codger, this collection can be a snap or a real nightmare! I've finished a complete set of 1937 plates for my parent's bar/rec room that's a real sight to behold, but plates of this vintage can run any where from $12 to $20 for the commons, up into the hundreds of dollars per plate. I have US and Canada, and most of the territories and some countries, and believe me, some were more than a little tough to turn up. I have a mint 1937 Yukon plate in my collection, and with only 115 cars registered in the Yukon that year, you can bet that was a toughie! But if your birthyear is 1965 or so, it's not too bad of a set to compile, and there's lots of interesting colors and slogans. If you were born during a war year - beware! These sets can be nearly impossible to complete, due to many state and provincial governments not issuing new license plates to save scarce "war metal". Birthyears from 1943 and 1944 are especially difficult, with many states and provinces using restamped plates, windshield stickers, small metal date tabs - or no plates at all.
MOTORCYCLE PLATES - Interesting, colorful, and easy to display... a collection of motorcycle plates is a sharp collection, but be warned, it can get expensive, as the popularity of these little gems jumps by leaps and bounds every year. I have a friend who isn't just collecting these by state, he's working on them by year - 1947! Last I checked, he had an impressive 15 or so under his belt, but I wouldn't recommend this type of set unless you have unlimited funds, as well as unlimited patience. You can probably piece together a nice set of current series motorcycle plates for around $250 to $300, depending upon condition and age.
TYPE SET - Pick a type - any type! Are you a school teacher? Try collecting School Bus plates! Truck Driver? Go for a set of Apportioned plates.... There's a long list of non-passenger types of plates available that are (or were) issued in all fifty states. I know a collector who only collects Taxi plates. A fifty state set of these is pretty impressive, and if you pick a type that not many people will be interested in, you'll be able to find examples to buy at a reasonable price! There are also typesets that are a little more difficult, due to either scarcity of the issues (like Governor #1 plates, or Medal of Honor winners), or because of their popularity (Ham Radio plates, Antique Car, Handicapped).... it's up to you - pick a type and GO FOR IT!
ERROR PLATES - OK, I'll admit it - I just threw this in error and invert plates because I collect them. But if you have the patience, it's an interesting sub-category. Look at error coin or stamp collecting - it's one of the bigger hobbies going!
STATE TYPE SET - Sort of a variation of the standard Type-Set, a State Type Set would consist of an example of each and every type plate that is in use in ONE state. Say you're from Mississippi.... start with a passenger, then a motorcycle - work your way through all the trucks, taxi and oddballs types, right down to the Governor, Senator and House issues! Some are tough, some are easy - but a great display if you can pull it off!
FOREIGN PLATES - This is a whole new ball game, and you'll have to be ready to do your homework, as well as to be willing to take the "good with the bad".... for every fancy "American style" foreign license plate, there's probably three non-descript all numbers/letters license plate, that to the untrained eye, is just another boring foreign. But if you're really into it, this can be one of the most enjoyable types of license plate collecting. Putting together a complete set will, at the very least, be a lifelong quest, but the plates can be very exotic, colorful and interesting. If you're really thinking about collecting the foreign stuff, drop me a line - I'll be glad to help you out!
THE REST OF THE RABBLE - You name it, you can collect it. One-per-state from the 1920's.... Vanity Plates with family members names.... low numbered license plates.... porcelain license plates.... PINK license plates.... plates from Africa.... Dealer Plates .... Movie/TV prop license plates.... Antique Car issues .... bicycle plates .... Samples .... it's never ending. Just don't overextend yourself, and be patient!
So what's you're favorite license plate?
I have a complete set of 1937 plates from the US, Canada and around the world, and a near complete set of invert-error plates, and an extensive collection of Bahamas plates. My favorite TWO plates I own right now would probably reside in my WORLD MOTORCYCLE collection - I own the only known example (in a collection, anyway), of a private motorcycle plate from Vatican City, as well as one of only two known motorcycle plates from North Korea. Here's the two little guys: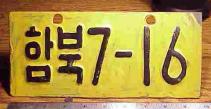 What was the first license plate?
Another hot topic! I'll break it down by stage.
The earliest license plates on actual "motorized vehicles" were probably used in France in 1893. There were early registration plates in use on carriages and wagons in the US (as far back as the early 1800's), but I don't know if you could actually call these "license plates", per se.
In the United States, the first license plates used on automobiles were seen in New York, in 1901. The N.Y. plates actually had no numbers - from 1901 through 1902, the plates were usually leather pads or flat metal plates, with attached letters indicating the initials of the car owner! New York didn't actually produce a state-issued license plate until 1910, when a cream on blue steel plate was made - undated, with riveted numbers. Plates in New York from 1901 through 1909 were owner-provided plates, usually referred to by plate collectors as "pre-states", because they were "pre-state issue".
When it comes to actual "state issued" license plates, Massachusetts is first on the list, when in 1903, a white on cobalt blue porcelain license plate was issued, with the words MASS AUTOMOBILE REGISTER across the top in tiny letters. The first DATED state-issued license plate? That would be a tie between Pennsylvania and West Virginia, both of which were issued and dated as "1906". West Virginia was also the first state to use a stamped metal plate, in 1906. Maryland was a distant second, with a black on cream yellow hand embossed and painted 1910 issue. The 1910 Maryland was embossed using wooden dies - the characters were added to the thin metal blank by hammering the metal onto the dies by hand - the black number paint was carefully applied by hand. Finding intact examples of the 1910 Maryland is difficult, and values run from $1000 for a poor example, to as much as $6000+ for an excellent, original plate.
What is the rarest license plate?
In U.S. issues, most collectors still consider the 1921 Alaska license plate to be the "holy grail" of license plates, although it's arguable if this issue has the fewest known examples on hand. The 1912 Mississippi is also a rare one, and the possibility of 1911 porcelain Miss. plate really stirs up the pot! Some early Newfoundland plates (Canada) are probably rarer than all of these, as there a no known examples of certain issues between 1920 and 1923 - I can't imagine a rarer plate than one for which no known examples exist.
In international license plates, the top three tough ones are North Korea (extremely isolated government), Vatican City (tightly controlled, very few vehicles), and a standard low number issue from the Cocos (Keeling) Islands (tiny island, few vehicles). Plates from the Sovereign Military Order of Malta are also extremely hard to find, but SMOM is sort of a marginal jurisdiction, that few collectors will actually attempt to add to their foreign set. Similar rare issues would be plates from Danzig, Sud Kasai, Katanga Prefecture, Saarland - rare, but few collectors venture this far into the "obscure" issue category. This is also true of some of the smaller islands of the Bahamas. Your average collector will settle for a single Bahamas license plate, usually from Nassau or Grand Bahama, rather than delve into completing a set of the 20 or so different individual islands. Of the Bahamas toughies: Rum Cay and Ragged Island are probably the rarest of the "family islands", with between 5-15 registered motor vehicles per island. These are followed by Berry Islands, Mayaguana, Acklins and Crooked Island.
I'm looking for a plate for my antique car - do you have one?
Possibly. Check my list of dupe license plates right here. If you don't see it there, I probably don't have one, as my list is pretty much up to date.
I have a license plate that I would like to have restored - do you know someone who can do the job?
This may be the number one question that I get every day. Unfortunately, I've known some people who have done plate restorations in the past, but have since given up the art. Currently, I have no one on file who do restorations. Good luck - if you find someone who does regular restorations, let me know - I can probably direct a lot of business his way! You might also want to keep this in mind.... I get a lot of requests from collectors who want to restore plates that really don't justify restoration. If you have a 1971 Texas license plate, and want to have it restored, it will probably cost you between $20 and $50. A mint 1971 Texas license plate can probably be easily found for around $5-8. Keep this in mind when planning to restore a plate.
Actually, no. My collection consists mainly of rare Bahamas issues, international motorcycle plates, a complete set of 1937 plates, and a large number of error and misprint license plates, as well as some various type sets, like Dealer plates, motorcycle Dealer plates, taxi, tow truck, etc. My main checklist page is HERE, which contains links to all of my collections. These plates total around 2,500. I also have approximately 5,000 miscellaneous license plates of all types and ages that I sell and trade to support my actual collection needs. Scary as it seems, I know of collectors with 50,000, 75,000, and even huge accumulations of license plates that reach into the "million plus" in quantity. To be honest, many of these "collections" should more accurately be deemed "hordes", but if that's the way a plate nut likes to collect, more power to 'em!
Probably. Drop me a line with a description of what you have, and what kind of $ you're looking for, and I'll get back to you. I buy and sell plates to raise funds to add to my collection.
When buying plates, I'll buy one plate, up to an entire collection, but if the plates in question are too common, or just not of general interest due to condition, I may decline to offer - but in most cases, I'll be glad to make you an offer. I will need good, clear photos of all the plates being offered - my offer prices are based on the "Rinker scale" - basically a percentage of retail value. Lower percentage for commons, and higher for the rarer items. In the event that there are plates I'd like to have for my own collection, I may even offer a price above "book".

Absolutely! OK... probably. I have a pretty good record when it comes to figuring out the identification of plates. I know foreigns backwards and forwards, and I can figure out US and Canadian oddballs. Just email me with your questions, but I absolutely WILL need a photo. Descriptions help, but without a photo, it's a tough call.
No biggie - I usually produce a lot of my lists for ALPCA members, who through experience, have a handle on all the different abbreviations and such. For those of you who are new to the game, go HERE for a complete glossary.
I'm not familiar with the grades used on license plates - can you elaborate?
Sure - here's the site. This site includes up to date grading terms, as well as full color photographs showing plates and their conditions.
ANY OTHER QUESTIONS? WRITE TO ME - I'll be glad to help out any way I can! - Drew the Editor
---