Drew Steitz - MOTORCYCLE PLATE CHECKLIST
Box 222, East Texas, Pennsylvania 18046 - USA - Email PL8Seditor@aol.com

WORLD MOTORCYCLE LICENSE PLATES


A

New Alphabetical Listings

A - B - C - D - E - F - G - H - I - J - K - L - M
I'm putting together a set of motorcycle plates from every issuing jurisdiction on the globe. I NEED the ones below that are in RED. I have all the US issues, including DC, all the Canadians, as well as territorials, and most of the national issues. The Bahamas motorcycles are also included in the Bahamas section - I now have all of the Bahamas islands.
Do you have one that's not listed, like some special temporary cycle, military forces (like US Forces In... etc)?? - LET ME KNOW! I'm interested, and will buy or trade, and bump up the total number I need - I'm looking for ALL of the foreign motorcycle plates! Standard private motorcycle plates are my priority, but non-passenger versions are also of interest.

---
TAP THE SMALL PHOTO TO SEE A LARGER PHOTO - Listings in BLACK are plates in my collection - generally, these are not available for trade, but I'm open to offers for upgrade or different years or numbers. Listings in BLUE are additional plates, usually an off-type of some sort. These may be available for trade, just contact me with your offer!
---
Abaco - Have vg condition 1977 issue, number 113.
---
Abu Dhabi - Have current motorcycle, three section number 2759, used gvg - have first issue square, all-Arabic.
---
Acklins - Have excellent 1990 issue, number 4.

---
Aden Protectorate - Have 1970's vintage, flat raised border, gvg.

---
Afghanistan - Have G- current issue embossed black/white - 1950's/60s vintage Farsi script motorcycle - have 1990 vintage motorcycle, with script and shield across the top.
---
Aimeliik - Have recent issue, black on green number 03, with crest - Have 84 EX brown/white #279
---
Airai - Have orange on blue number 007, Medechii Belau series, excellent.

---
Ajman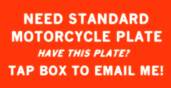 ---
Alabama - Have 1997 standard - Current Antique motorcycle - 1976 motorcycle dealer - 1972 Police motorcycle number MUN 491, vg - old series Vendor (Dealer) motorcycle V230 - have 1972 Shriner's motorcycle plate, number 121 (flat).
---
Aland Island - Have old series, white on black embossed number AL-5, excellent - Former white series, number 590 - Current graphic motorcycle, number 865 - have green on reflective white moped number 216 AAB.
---
Alaska - Have 1975 standard - 1972 Dealer - 1970 cardboard temporary - 1967 private motorcycle 5437 - have a "trailer" series plate, that a far as I can tell, have recently been reissued to be used on motorcycles. Seems strange, but I've included it as an "off type" motorcycle. Number 1117RR.
---
Albania - Have nice used 1970's vintage passenger motorcycle, Communist era, with stars - hand painted - have current graphic motorcycle, number 362B from Tirane - have older irp conditiom Army Motorcycle, UP 3880 (Ushtri Popullaru - People's Army) - Police Motorcycle number POLICIA 181.
---
Alberta - Have 63 VG, E060 - 1971 Dealer - have 1980's vintage Restricted Access motorcycle, with X prefix - motorcycle vanity "SINISTR" - Off Highway motorcycle A-67228.
---
Alderney - Have plexi two liner, AY over 129, excellent.

---
Algeria - Have 1950s-60's vintage motorcycle - background had been gone over by original motorcycle owner, remnants of original Arabic script is restored in upper right (Fox collection) - have 1980s vintage motorcycle, number 156-16 (former Klotz collection)
---
Allied Forces in Central Europe - Have 1980's vintage motorcycle 94087 - have a 1992 series AF series two liner motorcycle, black on yellow.
---
Allied Forces in Italy - Have current series 2nd vehicle issue, number 2N104M (Napoli Base), no paint - have near mint motorcycle (again, 2nd vehicle issue), white on black number 2C215M (Catania Base)

---
American Samoa - Have 1969 motorcycle, black on tan number 125 - have 1979 yellow/blue mint, number 086-79 - have 1990 vintage sample/proto, number MB 000, with island name.
---
Andoman and Nicobar Islands - Have current debossed number AN 01 over E 2323, white on black, mint.

---
Andorra - Have current issue, vgex condition.

---
Andros - Have a ex 1976 issue number 98. - 1981 series number 175.

---
Angaur - Have current series motorcycle, number 78 - mint.
---
Angola - Have 1970's vintage white on black stencilled, from former Priest's motorcycle in Luanda.

---
Anguilla - Have 1970's white numbers on black, thin metal, used.

---
Antarctica - have older souvenir issue, plastic blue on white. This is an unusual actual m/c sized plate, as opposed to the standard 6 x 12 issue.

---
Antigua and Barbuda - have 1970's vintage motorcycle, nice used plate, from the former Fox collection.

---
Apache Tribe, Oklahoma - Have recent series, mint condition.

---
Argentina - Have 1989 motorcycle number 001, black on pink from Provincia La Pampa - vg condition. - 1930s/40s Buenos Aires porcelain, white/black/orange - 1976 El Quebrachal motorcycle number 16 - current white on black number 161 BYR - 1992 Trelew province number 968 - have older Government official motorcycle, black on cream number 17608 - have 1965 motorcycle from Obispo Trejo, white on green number 133 - have full legend 1960s motorcycle from the town of Granadero Baigorria, number RL-1525 - have Neuquen Province GOVERNMENT motorcycle, white on red 1950's vintage number 1-949 - have 1940's-50's vintage motorcycle from the province of Mendoza, heavy steel, black on yellow number 03.627.
---
Arizona - Have 66 EX #K279 - 1958 State Police motorcycle number 8 - 1970 Dealer - 1974 invert error - have black on reflective orange DRIVER EDUCATION motorcycle, number 1053.
---
Arkansas - Have 75 EX #AA 07 - 1997 Dealer
---
Armenia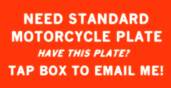 ---
Armenian S.S.R. - have old Soviet style motorcycle 73-21, original paint. AP is two letter code for Soviet Armenia.

---
Aruba - Have 93 VGEX #805, white on brown

---
Ascension - Have great "Olde English" style white on black hand painted motorcycle, very heavy with backing plate, number A229 - from the Fox collection - have white on black plexi, number A194 - have a thick pleix number A419, former Roy Carson collection.
---
Australia - National Issue - red Z series, vg condition. - Recent Army issue.
---
Australian Capital Territory - Have blue/white VGEX - Former series Vintage motorcycle.
---
Austria - Have current series, two liner, with crest.

---
Austria, Nazi Occupation, 1930's - Have white on black curved steel motorcycle, white on black with white crest, gvg tu number B40-070
---
Azerbaijan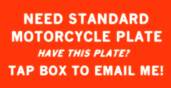 ---
Azores Island - Have black on refl white number 29 over 23-AR, mint - have black/yellow moped plate, from town of Lagoa.
---
A - B - C - D - E - F - G - H - I - J - K - L - M