Drew Steitz - MOTORCYCLE PLATE CHECKLIST
Box 222, East Texas, Pennsylvania 18046 - USA - Email PL8Seditor@aol.com

WORLD MOTORCYCLE LICENSE PLATES


J

New Alphabetical Listings

A - B - C - D - E - F - G - H - I - J - K - L - M
I'm putting together a set of motorcycle plates from every issuing jurisdiction on the globe. I NEED the ones below that are in RED. I have all the US issues, including DC, all the Canadians, as well as territorials, and most of the national issues. The Bahamas motorcycles are also included in the Bahamas section - I now have all of the Bahamas islands.
Do you have one that's not listed, like some special temporary cycle, military forces (like US Forces In... etc)?? - LET ME KNOW! I'm interested, and will buy or trade, and bump up the total number I need - I'm looking for ALL of the foreign motorcycle plates! Standard private motorcycle plates are my priority, but non-passenger versions are also of interest.

---
TAP THE SMALL PHOTO TO SEE A LARGER PHOTO
---
Jamaica - Have new style issue, blue on reflective white - have older curved 1950's vintage front motorcycle number A 743 - have Rental motorcycle, green on white R 2996 - have Jamaican made 4783 E long style - have 1927-28 motorcycle from St. Elizabeth (number K10), most likely the only known example from the 1920s western-style design for a motorcycle.
---
Jammu-Kashmir (Indian Zone) - Have large two liner JKY 8132, vg used.

---
Jammu-Kashmir (Pakistani Tribal Area) - Have heavy steel white on black with green border, number AJK 0740.

---
Japan - Have a full sized motorcycle plate, green/white. Have small motorcycle issue, navy on white with round "Fuji" symbol, number 3229. Ex- - have a blue/yellow mid-sized motorcycle issue, in blue/yellow - have older motorcycle/moped, black on cream white number 2222, used (note! -- Tiger Joe Sallmen states that this plate is a fake - I tend to agree that it is NOT a standard government-issue plate, and is an odd number to boot. Problem is, this plate is clearly well used, with full vibration cracks, and wear/tar/fading only present in a plate that has seen some road time. I'm keeping this plate in the set, but only as a "one off", until more information surfaces).
---
Jersey - Have long curved single sided white/black number J1659 - have a three-line plexiglass Driver's Education plate, with red "L" (for Learner) - plate is number 7 - 1970's vintage motorcycle, J57 407 - have recent series motorcycle, number J11226, with dealership legend.
---
Jervis Bay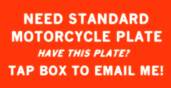 ---
Johnston Atoll (no phony blue/gold/black/white flat graphics - military issue only)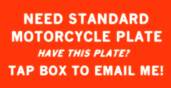 ---
Jordan - Have current series embossed black on white number 85763, vgex used

---
A - B - C - D - E - F - G - H - I - J - K - L - M