Drew Steitz - MOTORCYCLE PLATE CHECKLIST
Box 222, East Texas, Pennsylvania 18046 - USA - Email PL8Seditor@aol.com

WORLD MOTORCYCLE LICENSE PLATES


F

New Alphabetical Listings

A - B - C - D - E - F - G - H - I - J - K - L - M
I'm putting together a set of motorcycle plates from every issuing jurisdiction on the globe. I NEED the ones below that are in RED. I have all the US issues, including DC, all the Canadians, as well as territorials, and most of the national issues. The Bahamas motorcycles are also included in the Bahamas section - I now have all of the Bahamas islands.
Do you have one that's not listed, like some special temporary cycle, military forces (like US Forces In... etc)?? - LET ME KNOW! I'm interested, and will buy or trade, and bump up the total number I need - I'm looking for ALL of the foreign motorcycle plates! Standard private motorcycle plates are my priority, but non-passenger versions are also of interest.

---
TAP THE SMALL PHOTO TO SEE A LARGER PHOTO - Listings in BLACK are plates in my collection - generally, these are not available for trade, but I'm open to offers for upgrade or different years or numbers. Listings in BLUE are additional plates, usually an off-type of some sort. These may be available for trade, just contact me with your offer!
---
Faeroe Islands - Have1970's vintage porcelain moped (still need standard motorcycle)
---
Falkland Islands - Have 1980's vintage motorcycle, plexiglass, with dealership name.

---
Federal Capital Territory (Aus)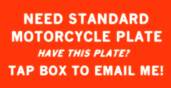 ---
Federated States of Micronesia - Mint number 11 Government motorcycle.
---
Fiji - Have former black/white A-818, G -

---
Finland - Have a recent issue two liner, number BJ 458 - white on black 1970's vintage number OV-455 - have 1940's vintage motorcycle, well used irp with welded vibe cracks - have three early motorcycles, all nice original from 1936, 1939 and 1938..
---
Florida - Have 1967-68 full size motorcycle (R code) motorcycle 642 - Have 70/71 white/blue ex small motorcycle number 10R1935 - Convention motorcycle number 8 - Dealer number AM 68-122 - City Police motorcycle number CY 4769.
---
France - Have former series white on black number 2933 KT 69 - front double sided 43AD-16, with cast elf and legend - Temporary Tourist issue, white on red Paris number 7983 TTB75 - Police Motorcycle, number 629 0003 - Army motorcycle, silver on black number 659 1186 - Have 1989 issue "four digit code" motorcycle, number 6859-0104 - have recent series WW series DEALER motorcycle plate, from Nord.
---
Free State Province - Have 2008 series "leopard" graphic, excellent

---
French Guiana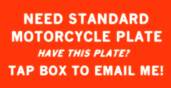 ---
French Indochina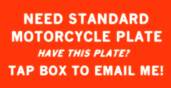 ---
French Polynesia - Have 1980's vintage motorcycle number 7246-K (second photo shows plate on bike in Papeete) - Have 1940's vintage motorcycle plate, hand painted four digit over "G". vg
---
Fujeirah - Have a current black on white two-digit, excellent with raised date seal.

---
A - B - C - D - E - F - G - H - I - J - K - L - M