Drew Steitz - MOTORCYCLE PLATE CHECKLIST
Box 222, East Texas, Pennsylvania 18046 - USA - Email PL8Seditor@aol.com

WORLD MOTORCYCLE LICENSE PLATES


U

New Alphabetical Listings

A - B - C - D - E - F - G - H - I - J - K - L - M
I'm putting together a set of motorcycle plates from every issuing jurisdiction on the globe. I NEED the ones below that are in RED. I have all the US issues, including DC, all the Canadians, as well as territorials, and most of the national issues. The Bahamas motorcycles are also included in the Bahamas section - I now have all of the Bahamas islands.
Do you have one that's not listed, like some special temporary cycle, military forces (like US Forces In... etc)?? - LET ME KNOW! I'm interested, and will buy or trade, and bump up the total number I need - I'm looking for ALL of the foreign motorcycle plates! Standard private motorcycle plates are my priority, but non-passenger versions are also of interest.

---
TAP THE SMALL PHOTO TO SEE A LARGER PHOTO - Listings in BLACK are plates in my collection - generally, these are not available for trade, but I'm open to offers for upgrade or different years or numbers. Listings in BLUE are additional plates, usually an off-type of some sort. These may be available for trade, just contact me with your offer!
---
Ubangi-Shari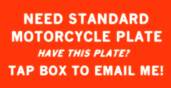 ---
Uganda - Have metal/glass disk - need plate

---
Ukraine - Have 1992 series motorcycle, from the town of L'viv.

---
Ukrainian S.S.R. - pre-1991 series motorcycle, black on white, heavy embossed steel - have old Soviet design, smaller moped variety, irp number 82-37
---
Umm Al Qawain (UAE)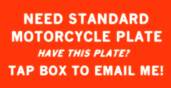 ---
UN Forces - Have black on white UNTAC Cambodian series motorcycle, used, gvg.

---
UN Peacekeeping Forces in Bosnia - Have black on refl white embossed square issue, well used original.

---
United Kingdom - Have front 1970's curved DRL 18L - two sided Army motorcycle 04 EN 48 - older Cornwall series, RL over 2035 - have Export verion "yellow border" motorcycle, YOE 81J.
---
Upper Volta - Have 1970s vintage motorcycle, brought back from Burkina Faso

---
Uruguay - Have black/white Treinta Y Tres with matching tab, number D4889, excellent. - 1970's Montevideo standard - 1950's Maldonado 4441 - Current crested Maldonado ANG 452 - 1950's LaPaz standard - 1930's vintage Montevideo porcelain number 2153 - 1950's vintage porcelain motorcycle number L5-530 (Colonia) - 1950's vintage porcelain motorcycle number P10253 (Lavalleja) - current rear black/white national issue SAF 138 - current series Temporary motorcycle number SBH 073 - 1960's motorcycle, white on blue from Flores - 1950's vintage motorcycle, from the province/town of Tacuarembo - have white/red Diplomatic moped plate, with crest, number 18287 - have 60's vintage Sarandi Del Yi town motorcycle, with lower case serial number, repainted by original bike owner - have recent series motorcycle from Salto, with validation seal - have 1930's vintage motorcycle, green on white, no tab - number O40, from Florida - have a single digit Dealer motorcycle (Prueba) from Flores, number N9.
---
US Forces in the Azores - Have red on reflective white, embossed - number 629 - have 1960's vintage motorcycle number 201.
---
US Forces in France - Have white on black embossed steel, number CFM0973, fg original.

---
US Forces in Germany - Have 1970's-80's black/green number M/E-9531, excellent - black/refl white 1990's vintage motorcycle M/A 2932, excellent
---
US Forces in Iceland - Have black on refl. white number VL over 0282, vg.

---
US Forces in Italy - Have current series 2nd vehicle issue, number 2N104M (Napoli Base), no paint - have near mint motorcycle (again, 2nd vehicle issue), white on black number 2C215M (Catania Base)

---
US Forces in Japan - Have vg green on white number 10 - have older style Iwakuni Base, red/black/blue - 1970's black on pink, B-1916 - have 1950's vintage green/white number A 281.
---
US Forces in Morocco - have used two liner, number 569 over MM 0 - back is marked "1970".

---
US Forces in the Philippines - SUBIC BAY motorcycle, blue on yellow 18-6.

---
U.S. Government - Nice 1980's vintage motorcycle plate - this one was used on a Dept. of Agriculture motorcycle (A prefix) - have Federal Aviation motorcycle FA018 - older Agriculture motorcycle number A-108.
---
U.S.S.R. - Have standard old Moscow issue, black on white with Cyrillic oblast code.

---
US Virgin Islands - non-island specific - Have 1962 number 1207, yellow on green.

---
US Virgin Islands - St.John - Have 78 ex, white on blue number 48 - have 1994 series number 161, with map.
---
US Virgin Islands - St.Croix - Have 1978 issue, vg condition

---
US Virgin Islands - St.Thomas - Have 1975 issue, vg condition - prototype number 1 (red numbers) - have number 1 standard used motorcycle plate from St. Thomas, 1991-1992.
---
Utah - Have 70EX white/black L 3799 - have Exempt/Police motorcycle number 68
---
Uzbekistan - Have 1992 issue, black/blue on white, heavy embossed steel - from the town of Tashkent (10 code).

---
Uzbeki S.S.R. - 1980's vintage motorcycle, 5533 over Cyrillic codes for Tashkent, used.

---
A - B - C - D - E - F - G - H - I - J - K - L - M