Drew Steitz - MOTORCYCLE PLATE CHECKLIST
Box 222, East Texas, Pennsylvania 18046 - USA - Email PL8Seditor@aol.com

WORLD MOTORCYCLE LICENSE PLATES


G

New Alphabetical Listings

A - B - C - D - E - F - G - H - I - J - K - L - M
I'm putting together a set of motorcycle plates from every issuing jurisdiction on the globe. I NEED the ones below that are in RED. I have all the US issues, including DC, all the Canadians, as well as territorials, and most of the national issues. The Bahamas motorcycles are also included in the Bahamas section - I now have all of the Bahamas islands.
Do you have one that's not listed, like some special temporary cycle, military forces (like US Forces In... etc)?? - LET ME KNOW! I'm interested, and will buy or trade, and bump up the total number I need - I'm looking for ALL of the foreign motorcycle plates! Standard private motorcycle plates are my priority, but non-passenger versions are also of interest.

---
TAP THE SMALL PHOTO TO SEE A LARGER PHOTO - Listings in BLACK are plates in my collection - generally, these are not available for trade, but I'm open to offers for upgrade or different years or numbers. Listings in BLUE are additional plates, usually an off-type of some sort. These may be available for trade, just contact me with your offer!
---
Gabon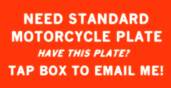 ---
Galapagos Islands - Have current black/yellow number W.0058, excellent

---
Gambia (The) - Have white on black, EX #M over 5820

---
Gauteng Province - have current motorcycle, graphics.

---
Gaza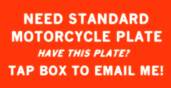 ---
Gazankulu - Have black on reflective orange number GY over 487, mint.

---
Georgia (S.E. Europe)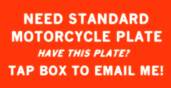 ---
Georgia (USA) - Have 1998 excellent, with the peach graphic and "Georgia on my Mind" slogan, number 1328 MJ. - 1981 Dealer, black on red number 159
---
German Forces in the Netherlands - Have yellow on black small two line number EH over 90D, with little crest. vgex

---
Germany, West - Have nice original black on white with stickers - Have black/white number KLE over AU10, no stickers. vg - Tax Exempt motorcycle green/white GL LM 996.
---
Germany - Current passenger, with blue stripe, Berlin - Thuringen, Germany 1922 series double sided motorcycle plate, with crest - pre WWII.
---
Germany, British Zone - Have white on black embossed "cut corner" shape number R over 426-117, gvgtu
---
Germany, Military - World War II - SS motorcycle

---
Germany, Military - ARMY motorcycle (Wehrmacht Heer) - have composite material, curved front plate

---
Germany, Nazi Era - Motorcycle, from the town of Baden. Single sided, heavy steel.
---
Ghana - Have current black/white with flag - have old series single liner, white on black GS 51, excellent with letter. from Accra - have white on black three letter prefix serial, from the former Carson collection.
---
Gibraltar - Have semi-current plexi, black on yellow
---
Glibert Ellice Islands Government (GEG prefix)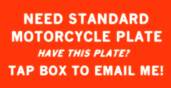 ---
Goa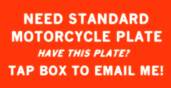 ---
Gold Coast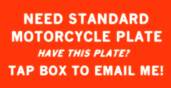 ---
Gozo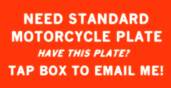 ---
Grand Bahama - Have 1976 issue, number 129. vg condition. - Self Drive motorcycle, black/white 144.
---
Great Britain - See United Kingdom
---
Greece - Have full sized motorcycle, black on white with red on white A AX panel. Number 98637, gvg. - Traffic Police mc, black on pale green number 43046 - Moped embossed BB 2638 - old series full motorcycle plate number 6030, with 1967-68 date and IX code - have older black on natural aluminum number 8351, from Larisa.
---
Greenland - Have current series used black/white with red border.

---
Grenada - Have MINT 74, porcelain orange on white front #37 - blue on white porcelain 1972 motorcycle number 370 - white on green porcelain date tab (shown on 1972 base).
---
Guadeloupe - Have recent series used motorcycle, WW (dealer) series, with stacked 971 code.

---
Guam - Have EX 71, yellow on green - Guam Police GPD 839 - Dealer MD 150 - Moped MOP 101 - have 1959 series motorcycle, number 599, vgex used.
---
Guantanamo Bay, Cuba - Have VG white/black number 1175

---
Guatemala - Have VG 78, black/orange - 1952 standard, white on black 2062 - 1943 standard, white on red "irp" number 331 - have blue on reflective white Police motorcycle, number M-22-05, used.
---
Guernsey - Have black on yellow plexiglass plate, vgex number 1 - Motorcycle Dealer number X9, black on red plexi.
---
Guinea - 1994 series motorcycle plate, well used with sticker - have older series silver on blue series, with map legend.
---
Guinea-Bissau - Have current black on white embossed, number RGB over A0512, excellent

---
Guyana - Have EX white/black two line - Diplomatic mc, black/yellow DPL 18-C7.
---
A - B - C - D - E - F - G - H - I - J - K - L - M