Drew Steitz - MOTORCYCLE PLATE CHECKLIST
Box 222, East Texas, Pennsylvania 18046 - USA - Email PL8Seditor@aol.com

WORLD MOTORCYCLE LICENSE PLATES


D

New Alphabetical Listings

A - B - C - D - E - F - G - H - I - J - K - L - M
I'm putting together a set of motorcycle plates from every issuing jurisdiction on the globe. I NEED the ones below that are in RED. I have all the US issues, including DC, all the Canadians, as well as territorials, and most of the national issues. The Bahamas motorcycles are also included in the Bahamas section - I now have all of the Bahamas islands.
Do you have one that's not listed, like some special temporary cycle, military forces (like US Forces In... etc)?? - LET ME KNOW! I'm interested, and will buy or trade, and bump up the total number I need - I'm looking for ALL of the foreign motorcycle plates! Standard private motorcycle plates are my priority, but non-passenger versions are also of interest.

---
TAP THE SMALL PHOTO TO SEE A LARGER PHOTO - Listings in BLACK are plates in my collection - generally, these are not available for trade, but I'm open to offers for upgrade or different years or numbers. Listings in BLUE are additional plates, usually an off-type of some sort. These may be available for trade, just contact me with your offer!
---
Dahomey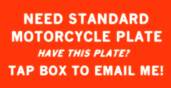 ---
Danzig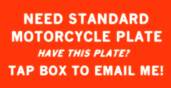 ---
Delaware - Have number 234. - Dealer D983.
---
Delaware Tribe (Oklahoma) - Have number 58, with intact 2005 date stickers.

---
Denmark - Have 1950's vintage front double-sided porcelain, white on black number R 14-245, vg

---
Diego Garcia - Have current motorcycle fender, with full color Diego Garcia BIOT license sticker number 0433. vg - 1960's vintage bicycle plate, white on black first issue, number 1123.
---
District of Columbia - Have 69 EX black/white M2906 - motorcycle dealer 1968 number DM 089.
---
District of Columbia Imauguration- Have 1997 MINT #666 - have 1989 number 163 - have 1997 number 369.
---
Djibouti - Have current VG #172D34 - non-Diplomatic staff motorcycle number 19 IT 69 - Temporarily Imported motorcycle, white on red number 1176 TT.
---
Dominica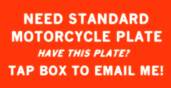 ---
Dominican Republic - Have 85 EX black/green - Official motorcycle, O prefix - red and black on refl white, number O-29252 - have current motorcycle, black/white number NY-R312 - have 1951 Official motorcycle temporary PP series, number 19 - have a 1948 private motorcycle temporary PP series, number 115 - have 1981 motorcycle, green on light tan number C-99248 - have odd type 1981 motorcycle, with no country name - 996-210.
---
Dubai - current black on white embossed aluminum number 4175, excellent - have Hire/Rental motorcycle, white on green restored.
---
Dutch New Guinea - Have late 1950's vintage motorcycle, two liner number 1610, excellent - have a well-used moped/motorcycle bicycle issue, number RF 101.
---
A - B - C - D - E - F - G - H - I - J - K - L - M