Drew Steitz - MOTORCYCLE PLATE CHECKLIST
Box 222, East Texas, Pennsylvania 18046 - USA - Email PL8Seditor@aol.com

WORLD MOTORCYCLE LICENSE PLATES


S

New Alphabetical Listings

A - B - C - D - E - F - G - H - I - J - K - L - M
I'm putting together a set of motorcycle plates from every issuing jurisdiction on the globe. I NEED the ones below that are in RED. I have all the US issues, including DC, all the Canadians, as well as territorials, and most of the national issues. The Bahamas motorcycles are also included in the Bahamas section - I now have all of the Bahamas islands.
Do you have one that's not listed, like some special temporary cycle, military forces (like US Forces In... etc)?? - LET ME KNOW! I'm interested, and will buy or trade, and bump up the total number I need - I'm looking for ALL of the foreign motorcycle plates! Standard private motorcycle plates are my priority, but non-passenger versions are also of interest.

---
TAP THE SMALL PHOTO TO SEE A LARGER PHOTO - Listings in BLACK are plates in my collection - generally, these are not available for trade, but I'm open to offers for upgrade or different years or numbers. Listings in BLUE are additional plates, usually an off-type of some sort. These may be available for trade, just contact me with your offer!
---
Saarland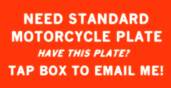 ---
Saba - Have black on yellow undated number S-17 - have 1979 first issue, orange on refl. white number 13.
---
St. Barthelemy (Barts) - Have silver on black two liner, with SB and 971 code, vgex.

---
St. Christopher (Kitts) - have thick current plexiglass motorcycle, white on black number PA 2384.

---
St. Eustasius (Statia) - Have black/refl white, vg used. - 1990's vintage Moped Rental issue, white on red number EMR 27.
---
St. Helena - Have black on yellow plastic on metal, number 236, from the former Fox collection - have black/yellow large square issue, black/refl.yellow number 357. vg-
---
St. Kitts-Nevis - have heavy steel used motorcycle plate number P3701, from the former Roy Carson collection.

---
St. Lucia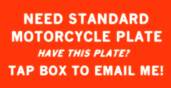 ---
St. Maarten - Have white on refl. blue number 209 - 1980's vintage green sample - wooden Moped rental replacement plate (from Bob Bittner)
---
St. Martin (French) - Have very good condition original embossed number 832 ZAA 971.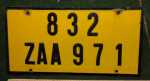 ---
St. Pierre et Miquelon - Have very good condition silver on black 1989 over SPM, former Roy Carson collection.

---
St. Vincent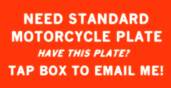 ---
Saipan - 1975 motorcycle, yellow on green number 153 - have last numbered series POLICE issue motorcycle, white on red number 20.
---
Samoa (current, with SAMOA legend only)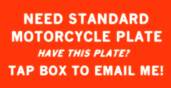 ---
San Marino - Have two line "chimney" issue, number RSM over 3865, excellent

---
San Salvador - Have 1978 issue, number 28 - vg condition.

---
Sao Tome e Principe - Have Police motorcycle black on green, vg used

---
Saskatchewan - Have 1973 motorcycle, number 8 - have 1967 near mint motorcycle number 3209.
---
Saudi Arabia - Have 1950's vintage cast plate, all arabic, vg condition, silver on black - 1970's vintage cast plate, all arabic, vg condition (was found in street in Riyadh!)
---
Savoy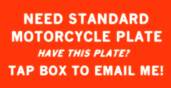 ---
Scilly Isles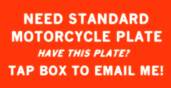 ---
Scotland - Have black/yellow plexi EEC style, number R51 MES, mint - have 1920's vintage curved/double-sided mc, SF 9969 - P465DSS recent series motorcycle, from Aberdeen, with dealership logos and name.
---
Senegal - have 1970's vintage private motorcycle number 3736S1K - have white on blue Government motorcycle, vgex - have rear TT Technical Assistance series motorcycle, red on white number 6976TTA1 - have recent series two liner, rear plate number 0133 S1G.
---
Serbia (pre-Independence) - have black/red/turquoise motorcycle dealer (red A usually indicates "dealer" in Yugoslavian series from late 1930's-early 40's) - red Cyrillc lower right, standing for "Directorate of the City of Belgrade" (Uprava Grada Beograda).

---
Serbia (Yugoslavia prov) - have black on white (red star) recent series moped, with full town name (MALIIÐOŠ)

---
Serbia-Montenegro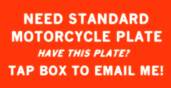 ---
S.H.A.P.E. (Supreme HQ Allied Personnel in Europe) - have a 1991 series Belgian style motorcycle, near mint.

---
Sharjah - Have current motorycle, near mint, black/white number 10234

---
Shetland Islands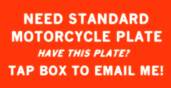 ---
Siam - have early, double-sided curved motorcycle - cream on black number 71 - old style embossed tin, straight front number 32621.
---
Sierra Leone - Have current series "Used Motorcycle" from 2003 (D=2003, U is Used) - very good all original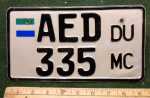 ---
Sikkim - Have 1960's vintage motorcycle, number 39 - Have current large motorcycle, silver and red on black plexi, with slogan across the bottom - black/red on white number SK01-5000, used - have early example number SKM 112, large rear plate, from the former Roy Carson collection.
---
Singapore - Have rear two liner, silver on black number AZ over 5917Z, vg - front double-sided silver on black AT 5094D - have two liner black on yellow - Government motorcycle number SG 6910, double sided curved.
---
Slovakia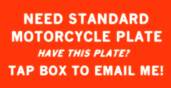 ---
Slovenia - Current series private motorcycle - have recent series Provisional PR series - have newer "bluestripe" version motorcycle number CE 60-1Z.
---
Solomon Islands - Have G used plate, from island source - #9993 - only known POLICE motorcycle, received directly from Solomons government building, late 1980s - Foreign Tech motorcycle number X-390 - have older series motorcycle, silver on black number 5557, used with cracking (Fox collection).
---
Somalia - Have old series hand painted, no crest, white on black - used, gvg

---
Somaliland Zone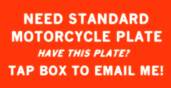 ---
Sonsorol, Palau - Current graphic passenger motorcycle, excellent number 13

---
South Africa - Department of Railroads motorcycle - number R 19062, used example.

---
South Australia - Have 1970's vintage issue - have oversize 1970's vintage plate, with large dealership legend across bottom.
---
South Carolina - Have 75 EX- white/maroon Z 46345 - 1980 Dealer number X1111.
---
South Dakota - Have 75 EX, red/white number 9797 - 1968 Dealer number 124 - 1950 private motorcycle number 1360, on waffle aluminum.
---
South Korea - Have semi-current black/yellow embossed steel number 02200 - have 1970's vintage motorcycle, blue on white.
---
South Vietnam - Have 1970's vintage private motorcycle number Q.G 357.L - Have white on green non-res front plate, white on green, number X-05110, gvg - have Diplomatic Staff motorcycle, flat dishpan NT.A 11098 - have 1970's vintage Government motorcycle, with TN prefix - have 1970's vintage POLICE motorcycle, with CSQG (Canh Sat Quoc Gia = National Police) cut into the plate, number GD 4624 H.
---
Soviet Union - Have standard old Moscow issue, black on white with Cyrillic oblast code.

---
Spain - Have standard Madrid issue, gvg condition. - Spanish National Guard motorcycle, black on white PGC-K 1357 - 1970s series Madrid - old series 1960's vintage from Madrid, number M357200.
---
Spanish Sahara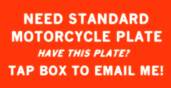 ---
Spanish Wells - Have 1980 issue, number 107 - vg condition.

---
Sri Lanka - Have black/yellow with "sri" VG - later series standard mc, black on yellow 91 sri 9061 - late 1990's single line hand painted number 107-1185 - recent series "non-Sri" coded, number 125-4534.
---
Srpska - Have recent series moped from town of Doboj - still need full sized motorcycle.

---
Straits Settlements - Have 1958 vintage S series motorcycle (pre-Singapore), number S over 6602, all original.

---
Sudan - Have current issue, black on white four digit Arabic number 5023, heavy steel backing plate, used with letter, vg - - standard motorcycle sample number 00, from Khartoum.
---
Sud Kasai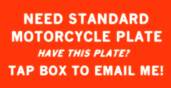 ---
Suriname - Have a 1969 black/white standard mc number 1405 - have 1958 "Interim" partial year motorcycle, black on white number 33-I.
---
Svalbard - Have standard series, yellow on black embossed two liner, vg.

---
Svalbard, Russian - Have vg used plate, black on white printed steel.

---
Swat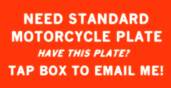 ---
Swaziland - Have old style white on black plastic in metal, number SD-78, excellent - have recent series private motorcycle plate, black on yellow embossed number SD 155KH
---
Sweden - Have black/white E prefix two line, VG - rear two liner black on white P 9783.
---
Switzerland - Have recent permanent motorcycle, from Zurich - Have 78ex temp NE3
---
Syria - Semi-current private motorcycle, all Arabic - early 1960's Government motorcycle, heavy double sided front, white on green embossed number 4. vgex - double sided Syrian Army motorcycle, hand painted white on black. - 1960's vintage Syrian Army, variant Arabic script.
---
A - B - C - D - E - F - G - H - I - J - K - L - M