Drew Steitz - MOTORCYCLE PLATE CHECKLIST
Box 222, East Texas, Pennsylvania 18046 - USA - Email PL8Seditor@aol.com

WORLD MOTORCYCLE LICENSE PLATES


Y

New Alphabetical Listings

A - B - C - D - E - F - G - H - I - J - K - L - M
I'm putting together a set of motorcycle plates from every issuing jurisdiction on the globe. I NEED the ones below that are in RED. I have all the US issues, including DC, all the Canadians, as well as territorials, and most of the national issues. The Bahamas motorcycles are also included in the Bahamas section - I now have all of the Bahamas islands.
Do you have one that's not listed, like some special temporary cycle, military forces (like US Forces In... etc)?? - LET ME KNOW! I'm interested, and will buy or trade, and bump up the total number I need - I'm looking for ALL of the foreign motorcycle plates! Standard private motorcycle plates are my priority, but non-passenger versions are also of interest.

---
TAP THE SMALL PHOTO TO SEE A LARGER PHOTO
---
Yap - Have excellent 1972/73 number 265 - have 1966 stencilled flat, fair-good original condition, number 157 - first issue 1969 base with 1971 sticker, number 0493 - 1982 motorcycle number M-440.
---
Yellowstone Park (Wyo)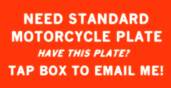 ---
Yemen, Unified - Have white on black private motorcycle plate, received directly from Aden in 1990, shortly after North and South Yemen were unified. - Have black on yellow Rental motorcycle, hand painted flat steel - have white on black embossed steel four digit, with "extended letter", from Aden.
---
Yemen, Arab Republic - Have white on black (with red star), former Jerry Boone collection - number 38.

---
Yemen, People Democratic - Have white on black hand painted/spray stencilled number 556, vg used arabic/English
---
Yugoslavia - Have 1980's vintage motorcycle, from Rijeka, number RI 28 286, vg original. Have old series black/white red star VG number S-32879 - have 1980's vintage LEARNER motorcycle plate, red and white on blue number M1013 - Have 1939 motorcycle plate, black and red on green, number 5212.
---
Yukon Territory - Have 1968 motorcycle, black on white number 21. Excellent condition - have 1994 current graphic style motorcycle, number 51384.
---
A - B - C - D - E - F - G - H - I - J - K - L - M