Drew Steitz - MOTORCYCLE PLATE CHECKLIST
Box 222, East Texas, Pennsylvania 18046 - USA - Email PL8Seditor@aol.com

WORLD MOTORCYCLE LICENSE PLATES


H

New Alphabetical Listings

A - B - C - D - E - F - G - H - I - J - K - L - M
I'm putting together a set of motorcycle plates from every issuing jurisdiction on the globe. I NEED the ones below that are in RED. I have all the US issues, including DC, all the Canadians, as well as territorials, and most of the national issues. The Bahamas motorcycles are also included in the Bahamas section - I now have all of the Bahamas islands.
Do you have one that's not listed, like some special temporary cycle, military forces (like US Forces In... etc)?? - LET ME KNOW! I'm interested, and will buy or trade, and bump up the total number I need - I'm looking for ALL of the foreign motorcycle plates! Standard private motorcycle plates are my priority, but non-passenger versions are also of interest.

---
TAP THE SMALL PHOTO TO SEE A LARGER PHOTO
---
Hawaii - Have EX 1967 issue, with date tab
---
Haiti - Have 1976 number 25. Black on orange, gvg - have 1980 motorcycle, vg original number 2928.
---
Hamilton Island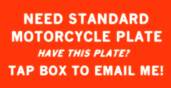 ---
Happy Valley, Labrador - Have undated late 1950's dark green on white number 189.

---
Harbour Island - Have 1977 issue, number 9. vg

---
Hatohobei State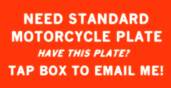 ---
Honduras - Have 1965, vg ex used plate. Red on white number M-1286 - have dark blue on gray later series, probably 1980's - have F series, "Fuerzas", low numbered F-48 - have 1966 motorcycle, red on robin-egg blue number M-1-326.
---
Hong Kong - Have EX black/yel plex #EE over 3030 - have older series motorcycle, front curved double-sided number BE 8149 - have early "two X three" sereis sample, received directly from the Tourism Bureau in Hong Kong. plate is plexiglass, mounted on an aluminum backing plate - excellent number AB123.
---
Hungary - Have vg condition black two liner, number MR over 0015, with 88 date sticker (orange) - have white on black "HH" series motorcycle, for Army motorcycles - Have current series graphic with flag, number UFY 510.
---
Hutt River Principality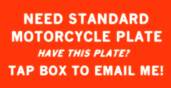 ---
A - B - C - D - E - F - G - H - I - J - K - L - M