Drew Steitz - MOTORCYCLE PLATE CHECKLIST
Box 222, East Texas, Pennsylvania 18046 - USA - Email PL8Seditor@aol.com

WORLD MOTORCYCLE LICENSE PLATES


T

New Alphabetical Listings

A - B - C - D - E - F - G - H - I - J - K - L - M
I'm putting together a set of motorcycle plates from every issuing jurisdiction on the globe. I NEED the ones below that are in RED. I have all the US issues, including DC, all the Canadians, as well as territorials, and most of the national issues. The Bahamas motorcycles are also included in the Bahamas section - I now have all of the Bahamas islands.
Do you have one that's not listed, like some special temporary cycle, military forces (like US Forces In... etc)?? - LET ME KNOW! I'm interested, and will buy or trade, and bump up the total number I need - I'm looking for ALL of the foreign motorcycle plates! Standard private motorcycle plates are my priority, but non-passenger versions are also of interest.

---
TAP THE SMALL PHOTO TO SEE A LARGER PHOTO - Listings in BLACK are plates in my collection - generally, these are not available for trade, but I'm open to offers for upgrade or different years or numbers. Listings in BLUE are additional plates, usually an off-type of some sort. These may be available for trade, just contact me with your offer!
---
Tadzhikistan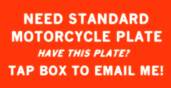 ---
Tahiti - Have 1980's vintage motorcycle number 7246-K (second photo shows plate on bike in Tahiti) - Have 1940's vintage motorcycle plate, hand painted four digit over "G". vg
---
Taiwan - Have vgex white on bright green number 94644. - black on pale blue number ASU-949, with ideograms - 1970's vintage motorcycle sample number 567890 - yellow series motorcycle - blue-green series motorcycle - newer pine green large-sized motorcycle - have black on pale blue large issue, with no legend (34-85342) - former series small motorcycle, white on blue irp number 53-70035.
---
Tanganyika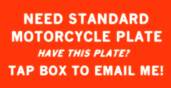 ---
Tanzania - Have hand painted white on black, vg used, number TDK 687. - Army motorcycle, white on gray, number 0061 JW 0690 - have a more current series, TZ over 98214 - have 1980's vintage square two liner TD over 9305.
---
Tasmania - Have blue/white EX - 1954 standard motorcycle, purple on white number WNX-780 - off road motorcycle number RV-5332.
---
Tenerife - Have moped plate, black on white number OV over 1938, good.

---
Tennessee - Have 70 EX, yellow/green ZF-5043 - Dealer 1979 number 85124 - Shrine 1974 number 1F - Shrine 1980 number 88 - Antique Motorcycle issue number 69, unusual "no state name" version - have Illinois-made test/prototype motorcycle, number 77777 - have original condition 1954 map shape motorcycle, number 3-353.
---
Territory of Papua New Guinea - Have white on black number 8-895, vgex used plate

---
Texas - Have 1972 standard, excellent - vanity 1979 number RED FLY - Dealer 1966 number P2278 - temporary cardboard number P-9262.
---
Thailand - Have semi-current motorcycle, number 3333 - white on red Police motorcycle 1111 - old 1960's vintage, number 10376 - 1960's vintage two liner 15757 - black on yellow rickshaw number 00033 (photo shows tourists haggling the actual plate away from the rickshaw driver - this is the actual plate shown in the ALPCA archive) - temporary motorcycle 632 - 1970's embossed black/white - have old silver on red motorcycle dealer, with frame - Miltary motorcycle, combined forces, full Thai script with crest - older white/black with red panel motorcycle, 1960's vintage number 06237 - alternate 1970's design number 12026 - all Thai script fancy design front curved, unused - Thai Police motorcycle, black on red number 13 - temporary series, all black on refl white number 774 - have 2007 series passenger, with three letter-three number series 939 - have a dealer-temp motorcycle from Pattaya, number 40056.
---
Tibet - Have 1960's vintage series, repainted, very heavy steel - from the town of Xizang.

---
Timor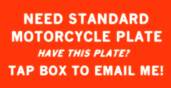 ---
Tinian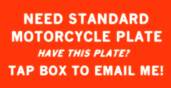 ---
Togo - Have former series two line, blue on refl white, gvg - have blue/white TG series motorcycle, used - red on yellow commercial motorcycle number TG-K 8819, excellent - have current series black/white motorcycle TGN 4526, have oddball black/yellow motorcycle TF-5317.
---
Tokelau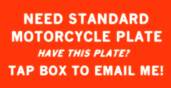 ---
Tonga - Have standard embossed steel motorcycle, white on black number 654, excellent-

---
Transkei - Have black on orange two line, number XB over 273, excellent unissued - Police motorcycle, white on blue number XP 872 - Government motorcycle number XG over 329.
---
Transvaal - Have current two line plexi, number NWJ over 836T - older series white on black number TSN 11300 - have three plate set of motorcycle plates, number TDK332 - have 1950's white on black motorcycle from Pretoria, number TP 8167.
---
Trieste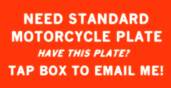 ---
Trinidad and Tobago - have 1970's vintage motorcycle, from the former Roy Klotz collection.

---
Tristan da Cunha - Have white on black plexi number TDC over 209, mint - 1990's vintage rubber plate, black on yellow, number 67, with original mailer.
---
Trucial States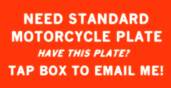 ---
Truk (Chuuk) - Have navy on white 1972 number 142, excellent

---
Trust Territories Pacific Islands - Have complete set of the six first issue 1968-69 "blue base" motorcycles
---
Tunisia - Have rear two liner issue, white on black number 9358-126 - have older single liner front plate, number 39 8388.
---
Turkey - Have old style black on natural aluminum number 67FC over 128, vgex used - black on white series standard motorcycle, number 37 AV 823 - current blue-stripe series, number 06 YTJ over 94 - 1950's vintage small moped plate, from Sakarya..
---
Turkish Cyprus - Have standard private motorcycle, DB 215 with red border, flat steel - have Government motorcycle number RHA 780, mint plexiglass.
---
Turkmenistan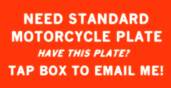 ---
Turks and Caicos Islands - Have current red on white number TC 1232 - have recent series, number TC1732 - front curved old style, embossed silver on black number TC 1386
---
Tuvalu - Have VIC prefix motorcycle (Vaiutpu Island Council), white on black stencilled - have 2000 era motorcycle, plastic number A00522 - brought back from the islands by a collector (new numbering).
---
A - B - C - D - E - F - G - H - I - J - K - L - M