Drew Steitz - MOTORCYCLE PLATE CHECKLIST
Box 222, East Texas, Pennsylvania 18046 - USA - Email PL8Seditor@aol.com

WORLD MOTORCYCLE LICENSE PLATES


B

New Alphabetical Listings

A - B - C - D - E - F - G - H - I - J - K - L - M
I'm putting together a set of motorcycle plates from every issuing jurisdiction on the globe. I NEED the ones below that are in RED. I have all the US issues, including DC, all the Canadians, as well as territorials, and most of the national issues. The Bahamas motorcycles are also included in the Bahamas section - I now have all of the Bahamas islands.
Do you have one that's not listed, like some special temporary cycle, military forces (like US Forces In... etc)?? - LET ME KNOW! I'm interested, and will buy or trade, and bump up the total number I need - I'm looking for ALL of the foreign motorcycle plates! Standard private motorcycle plates are my priority, but non-passenger versions are also of interest.

---
TAP THE SMALL PHOTO TO SEE A LARGER PHOTO - Listings in BLACK are plates in my collection - generally, these are not available for trade, but I'm open to offers for upgrade or different years or numbers. Listings in BLUE are additional plates, usually an off-type of some sort. These may be available for trade, just contact me with your offer!
---
Bahamas - Have standard white on black Nassau issue, pre-1976. - Self-Drive number 24, 1980s vintage - Self Drive number 648, 1960s vintage - have 1940 motorcycle from Nassau, hand painted on steel, with original mailing envelope complete with Nassau dated postmark, from U.S. Consulate - have old Out Islands Self Drive motorcycle, white on green used, flat steel SD-85.
---
Bahrain - Have current front plate, all Arabic - Motorcycle sample, number 101 - have Public Service/Police Service motorcycle, number 53214 - black/orange rental/hire motorcycle number 164, all Arabic - have standard passenger motorcycle, rear issue number 112..
---
Balearic Islands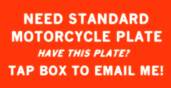 ---
Banaba Island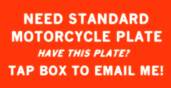 ---
Bangladesh - Have white/black private hand painted, VG used

---
Barbados - Have excellent curved front motorcycle, white on black C111 - Rental motorcycle, blue on white all embossed matched pair number H 190, with logo - have 1950's vintage curved front motorcycle, number M3572.
---
Barbuda - Have a hand-painted plexiglass POLICE motorcycle, from the Greenborough collection, obtainted directly from the island.

---
Basutoland - Have a vg embossed plastic white on black in a steel frame, number BA 205

---
Bechuanaland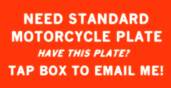 ---
Belarus - Have red on white two liner, used vg condition.

---
Belau - Have black/gold Rep. of Belau #311, excellent

---
Belgian Congo - Have yellow on blue two liner, rough condition with touchup.

---
Belgian Forces in Germany - have nice two liner, B 002 S, excellent.
---
Belgium - Have VG 1960's series, white on blue - Dealer motorcycle, ZAC 107 - 1940s vintage porcelain, white on blue number 474069 - have 1997 series rear motorcycle MUS 125 - have Belgium Army motorcycle, 1970's vintage number 11569 - have E series porcelain motorcycle (Post Office motorbike), original number E25333.
---
Belgium Temporary Tourist - Have a tu/vg white on red number .008.M, from 1968.

---
Belize - Have older Belize City motorcycle, hand painted and well used, number 8, from Fox collection - have standard 1900's vintage plate, flat aluminum, reflectorized number 1982.
---
Benin - Have standard black on refl white two liner, excellent.

---
Benin, People's Republic (Marxist Benin) - Have black on reflective white number C 2971 - with RPB code, denoting Republique Populaire du Benin, or People's Republic of Benin. This series was only used for a short period, before standard Republic of Benin plates came into use (see above plate).

---
Bermuda - Have 1979 white on green number Z398, with TCD sticker. vgex - private moped, white on blue 165 S - 1980 series motorcycle, dark green on white number T666 - large white on red motorcycle dealer plate D/437 - have white on red "point up" - two liner green/white number AU over 773, dated 2005 - old series red/cream white embossed number M 548, excellent - 1970's vintage motorcycle, R series, possibly Rental - have early series small motorcycle, vertical K289 - have 1950's vintage small motorcycle 5586, black on yellow - have orange on white series, J over 699, mint - have early series white on dark green moped K 405.

STILL NEEDED! - Red on pink-white with A prefix (similar to M and R prefix shown above) - Vertical oval plate, red on yellow "1234" numbering. - Old series white on black homemade, simple 1234 series. - black on white Aux. mc 1974, A over 123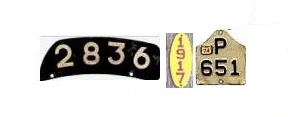 ---
Berry Islands - Have a ex 1987 issue, plate is number 1.

---
Bhutan - Have white on red private motorcycle, number BWP over 1388, with THIMPU legend across the bottom, vg. - Government motorcycle, yellow on red number BWG 2531 - have 2006 era motorcycle, with full legend in Dzongkha script across the top.
---
Biafra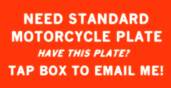 ---
Bimini - Have a ex condition1990 issue, number 5. - Self Drive 1950's vintage number BI-26
---
Bolivia - Have black/white embossed number 29126, good condition - have more recent passenger motorcycle, very heavy all embossed..
---
Bonaire - Have recent series private motorcycle, white on red number B-366. - Moped series, red on white number 146-BF - Government motorcycle from 1961, number D4 (Dienst = Government) - have recent series wooden replacement series motorcycle 746-BF, and original recent crested series embossed aluminum number 18-BF - have 1994 "Diver's Paradise" motorcycle number BF-142.
---
Bophuthatswana - Have newer series, black on reflective yellow number YBX over 389, mint

---
Bosnia-Herzogovina - Have current series private motorcycle, black on white number 019-M-828 - Have moped series, with full town name, black on white number 596.
---
Botswana - Have current series, large black on yellow number B780 over AAW, mint - have a custom m/c sized issue, plexi - number B238 AEW, used.
---
Brazil - Have EX used, from Santos - Diplomatic motorcycle, white on blue embossed number CD 114 - Current motorcycle, black on gray, from Chui, number IKB 7046 - have oval 1966 motorcycle, nice original number 551.
---
British Columbia - Have 1965 motorcycle, excellent.

---
British Forces in Germany - Have 1980's vintage, white on black embossed, mint.

---
British Guiana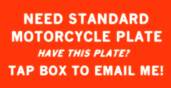 ---
British Honduras - have 1960's vintage motorcycle, former Jim Fox collection - embossed steel number 226.

---
British Virgin Islands - Have 2003 dated series private motorcycle number 77 - Have 1960's vintage motorcycle, shorty passenger series.
---
Brunei - Have 1970's vintage used rear motorcycle, cast number riveted to steel base - Have curved front plate, silver on black number B2345 - have rear style standard motorcycle, number B3450
---
Bulgaria - Have 1950's vintage private motorcycle, BPA over 0708. - Have 1960's vintage motorcycle, oval porcelain from Sofia - C 1469. - Older series black on white porcelain, Sofia series number 7232, near mint - older series small bike/moped plate, black on cream embossed, with touchup - 1930's vintage motorcycle, from Sofia, original owner irp crimson on cream, with tab - have "long oval" version porcelain, number Bp-055-55 - have full sized embossed porcelain Sofia porcelain, number 9109.
---
Burkina Faso - Have current style, with crest - number 22 over T 1846, excellent. - Diplomatic motorcycle, orange on green number 11 CD 0755 - have white on red Government motorcycle, number UG6834*BF - have single line 1986 series motorcycle, with yellow star, number UD7857*BF - have 1990's vintage two-liner motorcycle, embossed aluminum number UA 2082 BF.
---
Burma - Have white/black plexiglass, EX - Army motorcycle, white on black hand painted on steel, with star - have white on black plexiglass, with HONDA graphic artwork across the bottom..
---
Burundi - Have standard red/green motorcycle, two liner, gvg number BU over 2955. - Older series motorcycle, non-reflective BU over 470 - have 2008 series motorcycle, number 08BA6906, vgex original.
---
Byelorussian S.S.R. - Have 1970's vintage embossed steel, with codes for Minsk. vgex original.

---
A - B - C - D - E - F - G - H - I - J - K - L - M