Drew Steitz - MOTORCYCLE PLATE CHECKLIST
Box 222, East Texas, Pennsylvania 18046 - USA - Email PL8Seditor@aol.com

WORLD MOTORCYCLE LICENSE PLATES


C

New Alphabetical Listings

A - B - C - D - E - F - G - H - I - J - K - L - M
I'm putting together a set of motorcycle plates from every issuing jurisdiction on the globe. I NEED the ones below that are in RED. I have all the US issues, including DC, all the Canadians, as well as territorials, and most of the national issues. The Bahamas motorcycles are also included in the Bahamas section - I now have all of the Bahamas islands.
Do you have one that's not listed, like some special temporary cycle, military forces (like US Forces In... etc)?? - LET ME KNOW! I'm interested, and will buy or trade, and bump up the total number I need - I'm looking for ALL of the foreign motorcycle plates! Standard private motorcycle plates are my priority, but non-passenger versions are also of interest.

---
TAP THE SMALL PHOTO TO SEE A LARGER PHOTO - Listings in BLACK are plates in my collection - generally, these are not available for trade, but I'm open to offers for upgrade or different years or numbers. Listings in BLUE are additional plates, usually an off-type of some sort. These may be available for trade, just contact me with your offer!
---
Caddo Tribe of Oklahoma - Have current number 5, near mint.

---
California - Have undated 1963 base private motorcycle, excellent condition. - Movie prop mc plate, flat steel with cardboard characters - have 2005 vanity, JMZ GLYD, excellent.
---
Cambodia - Have current plexi, vg+ number 1-72006, with "Honda" graphics. - Standard private motorcycle, embossed 51380 - white on red/blue/gold Military motorcycle - Press Corps motorcycle 2174 - Government motorcycle embossed 4174 - flat white on blue International Organization m/c number 0217, mint - Police motorcycle, single line faded red/white plexi number 2.4967 - Military Police motorcycle, red/white plexi with full POLICE legend and Khmer numbers - CD 25372, diplomatic motorcycle, litho blue/yellow on steel - red/white/blue number 97, Riot Squad police motorcycle, plexi - 0274 Police motorcycle - 1A-4426 standard 2005 series private motorcycle, with dealership name..
---
Cameroon - Have white on black embossed number NW 0871 A,vg used - have fancy white on blue series motorcycle, large size complete with original "tiger" graphic mudflap - have curved front Ouagadougu series motorcycle, double-sided number OU-192-F - have 1960's vintage motorcycle number O-311-D (Ouest), used plate, former Fox collection.
---
Canadian Forces in Germany - have nice red/white number M 4008.

---
Canadian Navy (CFB, Halifax, Nova Scotia) - Have 1988 number 2441.

---
Canal Zone - Have 1979 number M-1355 - have P.C.C. OFFICIAL motorcycle number 3028.
---
Canary Islands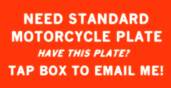 ---
Cape Verde - have vg used example from Cape Verde Sotavento, white on black hand painted dishpan steel, from the former McMahon collection.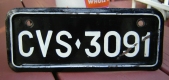 ---
Cape Province - Have black/gold embossed two liner - have smaller scale used black/yellow number CY 145-363 - have older series single line motorcycle number CA169-936.
---
Cat Island - Have vgex 1977 issue, number 6.

---
Cayman Islands - Have white/yellow 1980's number 45 589 - have black/white Hire motorcycle number 31 796 - have 1993 motorcycle number 55 579 - have 1980's vintage motorcycle number 31 440.
---
Central African Republic - Have white on black embossed number BG377, mint.

---
Ceuta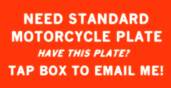 ---
Ceylon - Have gvg used hand painted plate, 1971 vintage.

---
Chad - have current flat steel, vgex used with CEMA crest on right end - have used Police Dept motorcycle, G code (Genderme) with national flag - rear motorcycle with CEMAC crest and Dealership legend..
---
Cherokee Tribe - have 2004 series motorcycle, number 99A - used plate, with crest.

---
Chile - Have EX 1981 black/white from San Bernando - Motorcycle Sidecar 1962 LJ15 - Motorcycle Dealer sample RE 00 - current national issue motorcycle FJ-921 - 1932 Motorcycle dealer number 5237 - 1932 motorcycle sidecard number 3425 - 1932 - commercial motorcycle number 138 - older undated Santiago motorcycle, dark green on off white - 1945 motorcycle-bicycle number NA6 - 1942 "3D" series, unknown type - 1959 motorcycle-bicycle number 81 - have 1964 motorcycle, from comuna of Tal Tal - have 1976 motorcycle, from comuna of Til Til.
---
China - Have VG semi-current white/green - current front motorcycle - red/white 1960's vintage motorcycle - have current temporary/border motorcycle number 00429.
---
Christmas Island - Have VG #149

---
Chuuk - Have current issue motorcycle number 5 (formerly Truk)

---
Ciskei - Have current large size, black/yellow GCF 937, vg - Police motorcycle, GCP over 795 - Special Forces motorcycle, black on white number GC 7-SF.
---
Cocos (Keeling) Island - Have current blue on reflective white number 20.

---
Colombia - Have current black on refl. orange OOS 99 - 1970's vintage green on gray - 1950's vintage debossed steel, from Bogota, number DM1910 - have 1937 Colombia motorcycle, from Perez. I believe the "A" is a type code, possibly Aquiler, which would make this a motorcycle Dealer plate - have cast small motorcycle issue, silver on blue Bogota issue B-150..
---
Colorado - Have 71 EX green/white GP-426 - Dealer NH 28, white on green, 2000 motorcycle vanity "ADIEU".
---
Comoros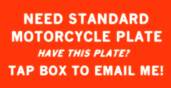 ---
Congo, Republic of - Have current series motorcycle, with RC code and CEMAC crest / hologram - have current Government motorcycle, black on yellow 224 BDQ4.
---
Congo, Democratic Republic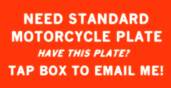 ---
Connecticut - Have 74 vg blue/white 68083 - Dealer 1976, XB 27 - carboard temporary number 45994 - have Parade motorcycle blank, gradient graphic - have a white on red 1940's vintage steel. I doubt this is a motorcycle Fire supp-plate, but if you know of a larger one, please contact me. This one is on the CT m/c size blank From Guilford Fire Dept.
---
Cook Islands - Have old series white on dark blue number 3181, gvg - 1960's vintage Government motorcycle, black on yellow number 63 - 1977 series private motorcycle number CC 3979.
---
Corsica - Have an embossed Dealer motorcycle plate, with 2B suffix and double WW code. vgex

---
Costa Rica - Have 1972 series motorcycle, white on black number M 5011 - small motorcycle number 11548, red on blue - have current blue/white reflective motorcycle - provisional/temporary motorcycle, flat silver on black metal, number MOT-57919 - current M 8245 - have near mint moped plate, number 6575, with stacked BM prefix (Bicycle, motorized) - recent series private motorcycle, number M-108246.
---
Cote D'Ivoire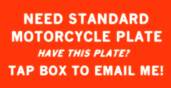 ---
Croatia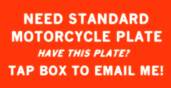 ---
Crooked Island - Have 1983 base motorcycle number 1.

---
Cuba - Have G current, black/yellow irp - have 1962 m/c - original black/white 014-569.
---
Curacao - Have 1990 motorcycle issue, white on red 340 MF with crest. - 1989 Government motorcycle, black on orange number 21.
---
Cyprus - Have former series square, black on yellow plexi number RK over 982.

---
Czechoslovakia - Have black on white GV-1 over 59-43, two liner, vg+ used. - Foreign Tech Government motorcycle, yellow on blue number PUA 0035 - Motorcycle dealer, green on white number X 12-79 - 1954 front curved motorcycle, heavy steel double sided.
---
Czech Republic - Have black on white number UO over 15-88, with red hexagonal "2002" sticker. gvg - have current series Tax-exempt motorcycle sample, Y 0000.
---
A - B - C - D - E - F - G - H - I - J - K - L - M