Drew Steitz - MOTORCYCLE PLATE CHECKLIST
Box 222, East Texas, Pennsylvania 18046 - USA - Email PL8Seditor@aol.com

WORLD MOTORCYCLE LICENSE PLATES


I

New Alphabetical Listings

A - B - C - D - E - F - G - H - I - J - K - L - M
I'm putting together a set of motorcycle plates from every issuing jurisdiction on the globe. I NEED the ones below that are in RED. I have all the US issues, including DC, all the Canadians, as well as territorials, and most of the national issues. The Bahamas motorcycles are also included in the Bahamas section - I now have all of the Bahamas islands.
Do you have one that's not listed, like some special temporary cycle, military forces (like US Forces In... etc)?? - LET ME KNOW! I'm interested, and will buy or trade, and bump up the total number I need - I'm looking for ALL of the foreign motorcycle plates! Standard private motorcycle plates are my priority, but non-passenger versions are also of interest.

---
TAP THE SMALL PHOTO TO SEE A LARGER PHOTO - Listings in BLACK are plates in my collection - generally, these are not available for trade, but I'm open to offers for upgrade or different years or numbers. Listings in BLUE are additional plates, usually an off-type of some sort. These may be available for trade, just contact me with your offer!
---
Iceland - Have current series MB-107 - small motorcycle white on red number H 138 - have 1960s vintage front plate, white on black number Y 20008.
---
Idaho - Have a vg condition 1964, green on white number 3835 - Dealer number 2050-02 - recent motorcycle blank, red/white/blue series - have recent prison misprint, "4RECON" vanity, stamped upside down, unfinished.
---
Ifni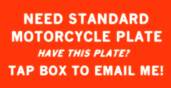 ---
Illinois - Have current/80's navy/white DREWZ 1, EX - Island Lake town motorcycle number 11, from 1974 and 1975 - Dealer number DL 553 J - have 1917 motorized bicycle disk, aluminum, original condition.
---
Inagua - Have 1990 issue, excellent - number 34.

---
India - Have embossed 1970's vintage motorcycle, GCM over 5450 - have current series plexi, with red/yellow border, number GJ11 B7858 - fancy die thick embossed aluminum MEB 8824 - fancy rear motorcycle with Motorcycle dealership logo, number MH-01 C319 - have oddly hand painted UHM over 2528, heavy steel - have 2000 era motorcycle, fancy orange on white number DL3S E5790 (yikes).. I'll assume this from Delhi with a number that high and complicated.
---
Indiana - Have 65 EX white/pine green 43968 - Dealer Used motorcycle 551X1 - have 1991 Historic/Antique motorcycle plate number 5518 - have 1966 Police motorcycle, number MO 293 (Municipally Owned), excellent.
---
Indonesia - Have white on black steel/steel old style, number N-5806A, vgex used plate. - Standard semi-current passenger number D 6937 GZ - Indonesia Army motorcycle 8649-00 - Government motorcycle white on red, L 9703 CA - silver on yellow Commercial motorcycle - Army motorcycle, flat style number 8649-00 - Defense Ministry motorcycle number 107-14 - Army motorcycle, all embossed number 626-42 - "alternate" Police motorcycle (with blue field)- old series with POL - number 5347-VII - Navy motorcycle number 107-05 - Police motorcycle, newer style with Police crest, all black, number 698-VII - Air Force motorcycle, red/yellow on blue with red/white crest, number 1390-04 - have Commercial motorcycle number DK 1998 MS - Diplomatic motorcycle B 80523 60 (US Embassy) - have red on white motorcycle temporary number AB3333XX - have 1999 moped plate, yellow on black flat plexi with wood backing, number AB 7301 VN - have standard design Police motorcycle, with red fielded crest, number POL 5927-01 - have 2001 series, with fancy dies and national flag.
---
Iowa - Have EX 70, red/white 12-345, possibly a sample. - 1989 Dealer D-1287 - Antique motorcycle - 1970 full invert error - have recent series Natural Resources "bald eagle" graphic motorcycle, from Cerro Gordo county.
---
Iran - Have 1970's vintage motorcycle, embossed black on refl. white, with printed arabic legend in corner, vg- original - have Export motorcycle issue, green on white, with original letter from Iran Auto Club, confirming use as motorcycle series.
---
Iraq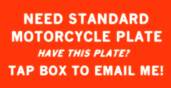 ---
Iraq Military - Have good white on khaki Republican Guard issue, two line quartered - g+

---
Ireland - Have 1983 series EEC issue, number 83WX over 663, vgex - 1990 red stripe temporary mc 90 WD 31 - old 1960's white on black two line motorcycle - 1960's vintage black on red ZS754 - have 1970's vintage black on red number EZY668.
---
Isle of Man - Have current two line plexi, black on yellow number MAN over 800, excellent.

---
Israel - Have current large size, excellent, number 17-657-24. Large size current, with blue band and flag, number 35-509-36 - Small motorcycle plate, number 15-155-01 - old series early 1960's curved front plate, hand painted number 464-312 - 1960's series rear plate, embossed aluminum 996-837.
---
Italy - Have old style blue/cream, EX from BS - Have restored motorcycle from Aosta, with lion, 13799 AO - Have fascist-era Army/Police motorcycle, black/red on cream with grenadine, RoEto 2693 - "EE" series 1950's temporary, no tab - pre-1997 Army motorcycle, red/black on white with green star - have current series motorcycle, AF 7 over 3878, with crest.
---
Ivory Coast - Have 1980's vintage motorcycle, flat white on reflective blue, from Abidjan. - have 1960's vintage motorcycle, heavy hand painted steel number A169 CI-3
---
Iwakuni Military Base, Japan - Have older style red/black/blue - 1970's black on pink, B-1916.
---
A - B - C - D - E - F - G - H - I - J - K - L - M