Drew Steitz - MOTORCYCLE PLATE CHECKLIST
Box 222, East Texas, Pennsylvania 18046 - USA - Email PL8Seditor@aol.com

WORLD MOTORCYCLE LICENSE PLATES


K

New Alphabetical Listings

A - B - C - D - E - F - G - H - I - J - K - L - M
I'm putting together a set of motorcycle plates from every issuing jurisdiction on the globe. I NEED the ones below that are in RED. I have all the US issues, including DC, all the Canadians, as well as territorials, and most of the national issues. The Bahamas motorcycles are also included in the Bahamas section - I now have all of the Bahamas islands.
Do you have one that's not listed, like some special temporary cycle, military forces (like US Forces In... etc)?? - LET ME KNOW! I'm interested, and will buy or trade, and bump up the total number I need - I'm looking for ALL of the foreign motorcycle plates! Standard private motorcycle plates are my priority, but non-passenger versions are also of interest.

---
TAP THE SMALL PHOTO TO SEE A LARGER PHOTO
---
Kampuchea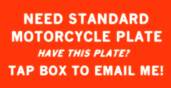 ---
KaNgwane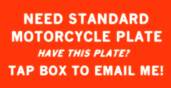 ---
Kansas - Have white/red 71 EX #S/F 73 - Have undated 1990's vintage Army Veteran motorcycle, excellent.
---
Katanga Prefecture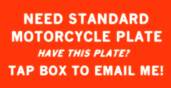 ---
Kayangel State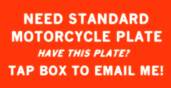 ---
Kazakhstan - have 1990's vintage motorcycle, black on white two liner, number 1741 ATA (from Almaty)

---
Kazakh S.S.R. - have 1970's vintage motorcycle, irp condition, from the town of Chimkent.

---
Kentucky - Have 71 MINT white/navy 22276 - 1999 motorcycle vanity, number DTRE - Motorcycle Dealer 1976 number XMC27 - Historic Motorcycle, green on white number M-121 - have 1999 Dealer TEST plate, number GHIJKL.
---
Kenya - Have Police Motorcycle, which is actually a full-sized plate, but comes with full paperwork, verifying the plate came off a motorcycle. Freaky, but true.
---
Kerguelen Islands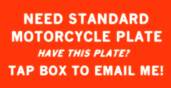 ---
Kingdom of Heaven - Have dated 2007 motorcycle number 758407 - The KOH is a separatist church located in Oregon - the "members" don't believe in Federal Government laws, and feel they have no responsibility to pay taxes, register motorcycles in their state, etc - these plates are of course, illegal, but I've included this one as an example. I also have this earlier version, in which a serial number is to be added by the vehicle owner.
---
Kiribati - Have white on black stencilled particleboard, number BTC over 92, vgex
---
Kiritimati (Kiribati with KMA prefix)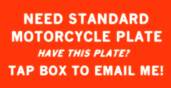 ---
Koror - Have black/gold Rep. of Belau #311, EX- - have 1990's vintage purple on white, with crest, number 180.
---
Kosovo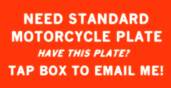 ---
Kosrae - Have 1995 excellent used plate, number 73 - have older 1980's vintage black/blue with fafa pounder, number 87 - have 1980 yellow on green Trust Territory era issue, number 389.
---
Krajina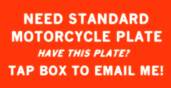 ---
Kuwait - Have current black on refl white two digit, excellent.

---
Kwajelein Atoll - (none yet known to exist)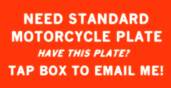 ---
KwaNdebele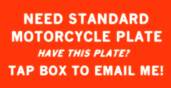 ---
KwaZulu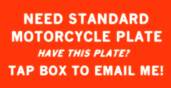 ---
Kwazulu-Natal - current series private motorcycle.

---
Kyrgyzstan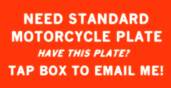 ---
A - B - C - D - E - F - G - H - I - J - K - L - M