Drew Steitz - MOTORCYCLE PLATE CHECKLIST
Box 222, East Texas, Pennsylvania 18046 - USA - Email PL8Seditor@aol.com

WORLD MOTORCYCLE LICENSE PLATES


E

New Alphabetical Listings

A - B - C - D - E - F - G - H - I - J - K - L - M
I'm putting together a set of motorcycle plates from every issuing jurisdiction on the globe. I NEED the ones below that are in RED. I have all the US issues, including DC, all the Canadians, as well as territorials, and most of the national issues. The Bahamas motorcycles are also included in the Bahamas section - I now have all of the Bahamas islands.
Do you have one that's not listed, like some special temporary cycle, military forces (like US Forces In... etc)?? - LET ME KNOW! I'm interested, and will buy or trade, and bump up the total number I need - I'm looking for ALL of the foreign motorcycle plates! Standard private motorcycle plates are my priority, but non-passenger versions are also of interest.

---
PHOTO TO SEE A LARGER PHOTO - Listings in BLACK are plates in my collection - generally, these are not available for trade, but I'm open to offers for upgrade or different years or numbers. Listings in BLUE are additional plates, usually an off-type of some sort. These may be available for trade, just contact me with your offer!
---
Easter Island - Have 1981 black on white number FZ 080, vg - have black on yellow 1980 series "G" prefix motorcycle. These two are two of the four known Easter Island motorcycle plates.
---
Eastern Cape Province - Have current graphic, excellent

---
Eastern Caroline Islands - Have 1989 number 003, excellent.

---
East Germany - Have last series, black on white two liner, excellent. - East German ARMY motorcycle VA 13-6333 - East German Police mc, VP 000544 - East German Border Police motorcycle (GT = Grenztruppen) number GT 14 6235, with small East German crest - have early 1950's vintage motor scooter number CL 61-62, hand painted - excellent "Sports and Technical Org" series, black on yellow number L over 05-16, with crest..
---
East Timor - Have current series used embossed motorcycle, number 318 - have new owner-provided motorcycle, with crest. Real plate, obtained IN East Timor, 2005.
---
Ecuador - Have EX used 72 yellow/blue - 1973 Bicycle plate, green on grey - recent series black on blue H-0373.
---
Egypt - Have current embossed/reflective number 41607 (has GIZA in Arabic across top) - have recent series black on white, vg used (unknown town name at top - can anyone tell me where this one is from?) - older white on black series hand painted number 119 (could be from Luxor).
---
Eleuthera - Have 1977 issue, number 48 - vg condition.

---
El Salvador - Have 1971 motorcycle, original white on blue number 8030.

---
Equatorial Guinea - Have black on white screen stencilled, from Bioko Norte, gvg - white on green temporary motorcycle, from Rio Muni, number 0019.
---
Eritrea - Have current motorcycle, Government issue, black on white, excellent.

---
Eritrean Popular Liberation Front - Have only known motorcycle, embossed steel, white on black number 198

---
Estonia (Independent pre-Soviet) - Have 1939 motor-scooter, black on light blue 424.

---
Estonian S.S.R. - Have white on black number 07-40 over cyrillic code for Estonia, standard Soviet series, vgex - older motor scooter (1950s), number 6494 on sandwiched steel - pre-1991 series black on white motorcycle.
---
Estonia (Independent post-Soviet) - Have black on white 1997 plate number 228 over CD, new style without cut corners. Mint. - Have first Independence issue, approx 1992, large two liner steel, vgex number 801 AP - have horizontal style 2005 issue, number 13 HL, vgex.
---
Ethiopia - Have VG Addis Ababa 1522 irp - 1930's vintage motorcycle number 90 - 1980's vintage Red Cross motorcycle number 501 - 1960's bicycle plate, white on blue number 033 - 1990's vintage private motorcycle number 499 - have double sided front motorcycle, flat hand painted steel number 1361, from Addis Ababa - have Government motorcycle, yellow on blue "4" series number 270..
---
European Union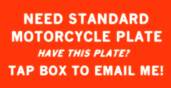 ---
Exuma - Have gvg 1979 issue, number 5.

---
A - B - C - D - E - F - G - H - I - J - K - L - M